Though our primary goal is people – building a robust and deep thinking community of innovators – the projects that our teams have launched during their 90 day experiential learning make an impact. Curiosity and tenacity drives our teams as they seek, test, and pitch new solutions.
Beyond Project Mercury, the next project awaits.
Our innovators will be ready.
Examples of Project Mercury projects:
Cohort 7's People Choice winner ask, "What's America doing to counter China's one belt/one road initiative in West Africa? Find ways to share and collaborate in support of a 100 year plan of our own."
Team Novus from Cohort 9 created a mental health oriented peer-to-peer program to train Airmen to connect with each other and familiarize and advocate for locally available life management services.
Cohort 7 team eliminates siloed communication and data exchange between governmental agencies in the humanitarian assistance and disaster relief (HADR) ecosystem limit information that hamper sharing and prevent first-rate HADR response especially during immediate response. #SituationalAwarenessNow
Cohort 4's Team Arctic Fire, winner of the Showcase "Collaborate" award, asks "How do we leverage the unique shared challenges in the arctic to forge unconventional international partnerships?" #ArcticGames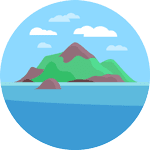 Our Innovation Showcase Winner for Cohort 4, Team Pacific Prime, asks "How can we deliver high priority logistics items in a contested environment with a low risk of attrition?" #AcceleratedLogistics
The Bar Napkin Planners from Cohort 4 asked, "How do we build and cultivate micro-lateral exchanges to help America become the Partner of Preference?" See how their proposal leverages the human domain as we build lasting relationships with our Pacific Allies. #ProjectArborist